"There's no need to fear, Underdog is here!"
If you grew up watching Underdog cartoons, maybe an Underdog dog costume is just what you need for your pet. It was fun watching the cartoon, so why not turn your furry pal into your own Underdog buddy? Then your dog would be able to save Sweet Polly Purebred (or pretty much any dog in the neighborhood) from any evil doers.
~~~~~~~~~~~~~~~~~~
Disclosure: Please note that posts may contain affiliate links.
If you buy, you get what you want, I get a small commission at no extra cost to you, and the dogs get fed: win, win, win! 🙂
~~~~~~~~~~~~~~~~~~
About the Underdog Dog Outfit
The costume comes with the iconic blue cape and a red top with the letter "U" (for Underdog of course!) on the front.
Here are a couple of reputable stores that sell the Underdog costume for dogs…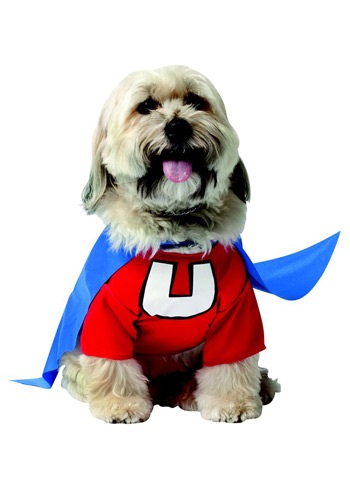 UNDERDOG DOG COSTUME: Sizes small, medium & large. 100% polyester fabric. The red shirt Velcros in back and has a white "U" on front. There is a cape included because every hero, human or canine, needs his cape. The little blue cape ties in front and has a white "U" on back! (around $17)
Rasta Imposta Underdog Dog Costume: Sizes XXS to XXXL. Your very own dog can be the superhero you remember from your youth! Costume comes with top and cape. Material: 100% POLYESTER; Care Instructions: Do Not Wash. (around $19.37 – $24.84, depending on size) You pay $0.00 for shipping
Just click on either red button, and it will take you to the correct page on the two different stores website to check prices at that store.
A Costume Size for Every Dog
One of the great things about this dog outfit is that is comes in so many different sizes. It starts in an extra small size and goes all the way up to an extra extra extra large size! That covers dogs weighing a tiny two pounds up to the more massive 185 pounds of dog!
That ought to pretty well cover most dogs unless you have a teeny-tiny dog, or a pony sized dog!
It's also available from a couple of different vendors, a lot of different sizes, so a great choice for a dog costume. (Too bad it can't actually turn your pet into a TALKING dog when he or she is wearing this get up! Holey moley! A talking dog! 🙂 )
eBay is a Possibility Too
The vendors above are great, but there also are usually some of these dog costumes available from sellers on eBay if you prefer.
Since this is an auction venue, if you see an item you'd like to get from a particular seller, remember there is usually a limited time available to get it. So act fast, or get your Underdog dog costume from one of the vendors listed earlier.
And remember… "There's no need to fear, Underdog is here!"